Canadian Physiotherapy Association Book Review: " I Laughed So Hard I Peed My Pants!"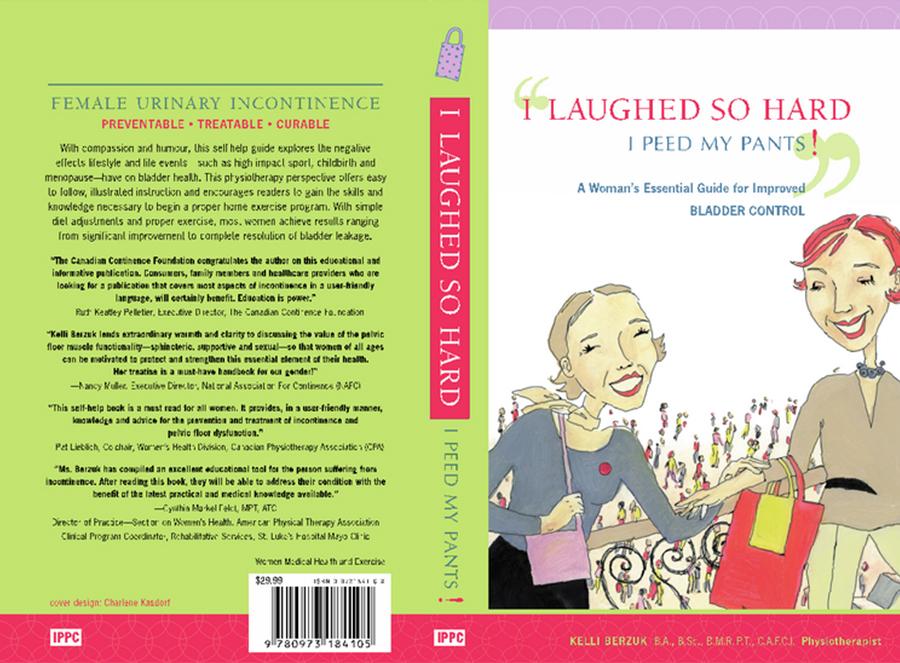 Canadian Physiotherapy Association Book Review: " I Laughed So Hard I Peed My Pants!"
"I Laughed So Hard I Peed My Pants!" is a must read for all women and a valuable resource for physiotherapists and other health care providers to recommend to their patients.
Author Kelli Berzuk has created an exceptional self-help book for women who experience bladder control problems that is informative and easy to understand. "I Laughed So Hard I Peed My Pants!" is comprehensive, educational, and an enjoyable read. I routinely recommend this book to my female patients, and friends, as it encourages women to understand their body and empowers them to take control of their bladder.
In 29 short chapters, Berzuk provides an abundance of information describing the prevalence of incontinence, how continence is maintained and how it is lost. She describes "normal" bladder function and defines common bladder control problems experienced by women. The author emphasizes that although bladder control problems are widely experienced by women, they are by no means "normal". Though the focus of the book is on stress, urge, and mixed incontinence, the author dedicates two chapters to introducing the supportive and sexual functions of the pelvic floor muscles and how dysfunction of the muscles can present. The middle chapters of the book are dedicated to treatment of incontinence. Berzuk provides instructions for women to begin a very basic pelvic floor muscle home exercise program and offers simple strategies to optimize adherence to the prescribed program as well as provides helpful information to guide women though proper exercise execution and progressions. The author provides a great deal of educational information for the reader on topics such as toileting postures, bladder training, and the influence of dietary intake on bladder function. Berzuk has a gift for transforming her wealth of knowledge into simple concepts that are understandable and solutions that are achievable. The final chapters of the book provide a brief overview of medical investigations that are completed to evaluate bladder function as well as a brief description of different treatment options for women with bladder control problems including but not limited to; physiotherapy, pharmacological interventions, and surgical options.
The layout of each chapter is beautifully composed including interesting facts, detail pertaining to the topic where key information is summarized in point form at the end of the chapter, and Berzuk always includes a personal reflection or clientspecific story. The reflections are either personal stories from her own experience or from her experience as a clinician, facilitating an element of connectedness with the author. Berzuk highlights, in an empathetic manner, the impact of bladder control problems on many aspects of quality of life. She then encourages women to learn and understand what is happening so they feel equipped to take charge of their bladders. In a light-hearted, down to earth style Kelli Berzuk has composed a wonderful book to read and to pass on. I highly recommend "I Laughed So Hard I Peed My Pants!" to all women!
Reviewed by: Cindy Auchincloss,
PT, Treasurer, CPA Women's Health Division,
CPA Member since 2005
To order:
www.ilaughedsohard.com/order.html
About Kelli Berzuk: Kelli has worked as a clinician in pelvic floor health for 20 years, and has watched many other countries develop specialization certification in the field. She is a memeber of numerous national and international societies such as the Women's Health Division of the Canadian Physiotherapis Association (CPA), the American Urogynecologic Society, the International Urogynecological Associaition, the European Urology-Accredited Continuing Medical Educaition, the International Continence Society, the International Society of the Study of Women's Sexual Health, the International Pelvic Pain Society, and the Acupuncture Foundation of Canada Institute. Kelli is the only Clinical Specialist in the province of Manitoba, and has been a CPA member since 1994.
physiotherapy.ca  January/February 2017